The Landlord and tenant team handles a wide range of lease related enquiries including all rent reviews and valuation processes for PHP. The team is experienced in working with our occupiers, the District Valuer's Office, the NHS and other Health and Property professionals.
The team also oversees the landlords' buildings' insurance policies and claim procedures, as well as the valuation process.
Meet the team
Asset management in action
Maybush Medical Centre, Wakefield
The surgery was built in 1997 and is located within 2 miles of Wakefield Town centre. PHP worked alongside the GPs and the Clinical Commissioning Group in Wakefield to deliver a refurbished surgery that would be fit-for-purpose for the next 20 years and addressed the needs of the staff and patients alike. The works incorporated environmental improvements to assist with the reduction in the building's carbon footprint and running costs and were carefully managed to minimise disruption to the surgery, its staff and patients.
The works included refurbishing consulting rooms and waiting areas with a new reception desk, a new interview room and a baby changing room, and an enlarged meeting room.
"The team at PHP have done an excellent job at designing new and improved premises for staff and patients alike. They communicated with us at every step of the way and worked with us to address any practical issues that the Practice had identified. The extensive refurbishment project was delivered on time and with minimal disruption to both staff and patients. The results are outstanding and now gives us modern compliant premises that is fit for purpose and allow us to meet the needs of the local community."
Louise Gregory, Practice Manager, Maybush Medical Centre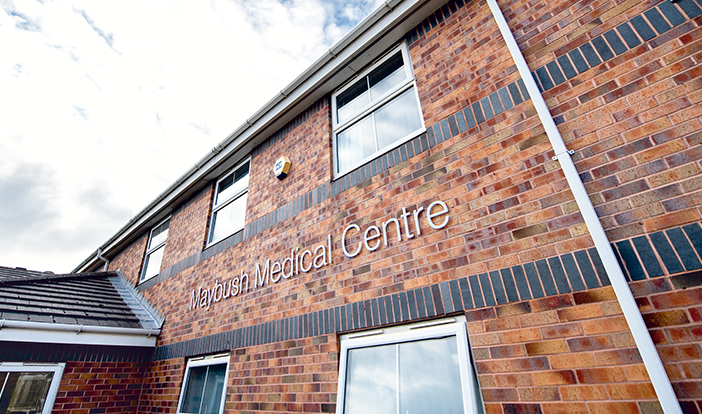 Highlights
The GPs committed to a new 20 year lease.
New LED lighting throughout.
New energy efficient boilers, pipework and low surface temperature radiators.
New automatic entrance doors.
New fire alarm panel and sensors.
Meets current infection control and disability access standards.